Bellevue Community Schools Board of Education has scheduled first round interviews for six candidates for Superintendent. Interviews will be held in the Bellevue Jr./Sr. High School Library on Monday, July 11 and Tuesday, July 12 from 6-8 P.M. Staff and community members are encouraged to attend as there will be an opportunity to provide feedback to the board after each of the interview sessions. Bellevue Community Schools will also be livestreaming the first rounds interviews. The livestream link will be provided each night prior to 6 P.M.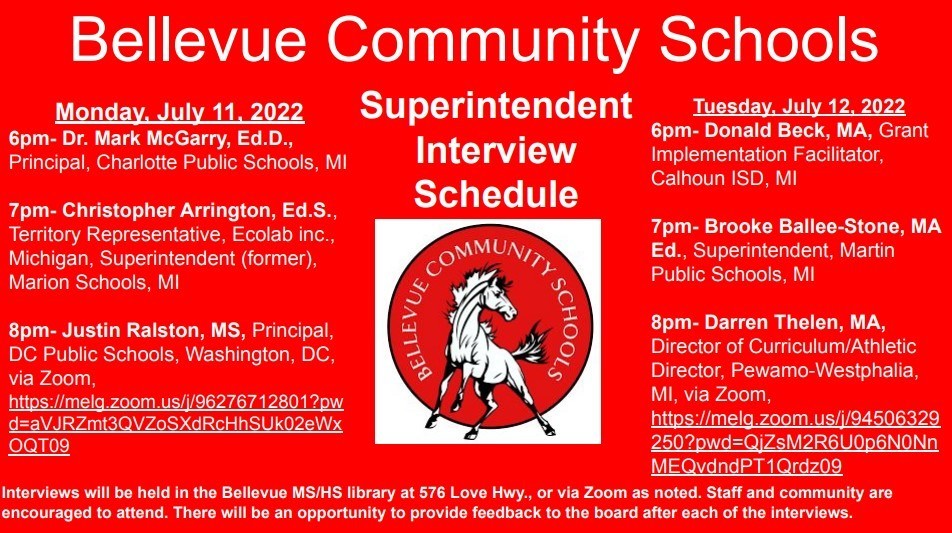 Superintendent Interview Schedule, Round One. Scheduled for Monday July 11 and Tuesday July 12.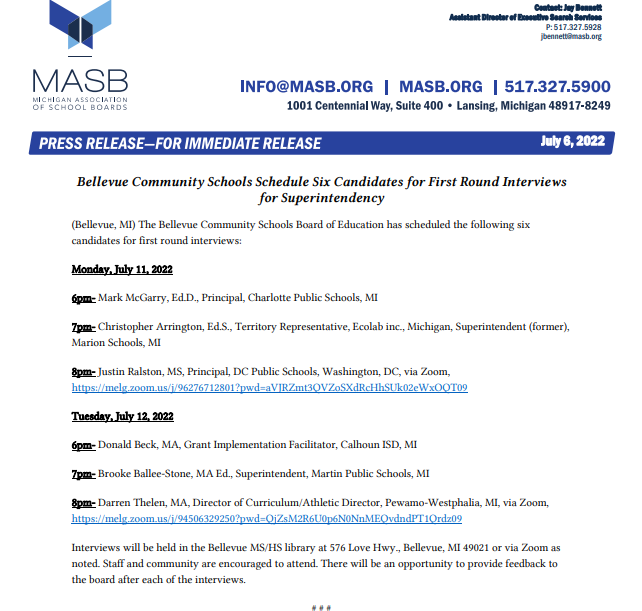 Please welcome Tracy Ferguson as our district Business Manager!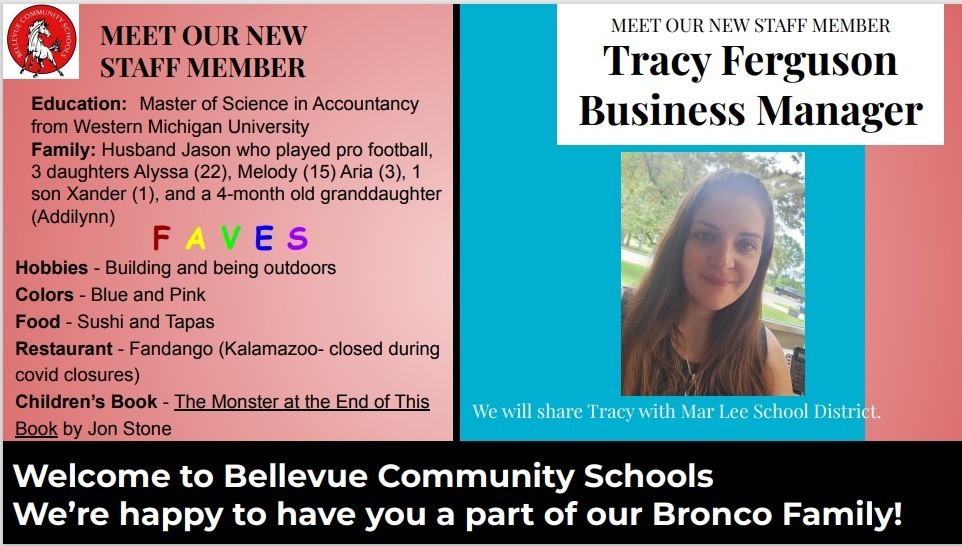 Summer Learning students had a special surprise when they were able to check out a fire truck!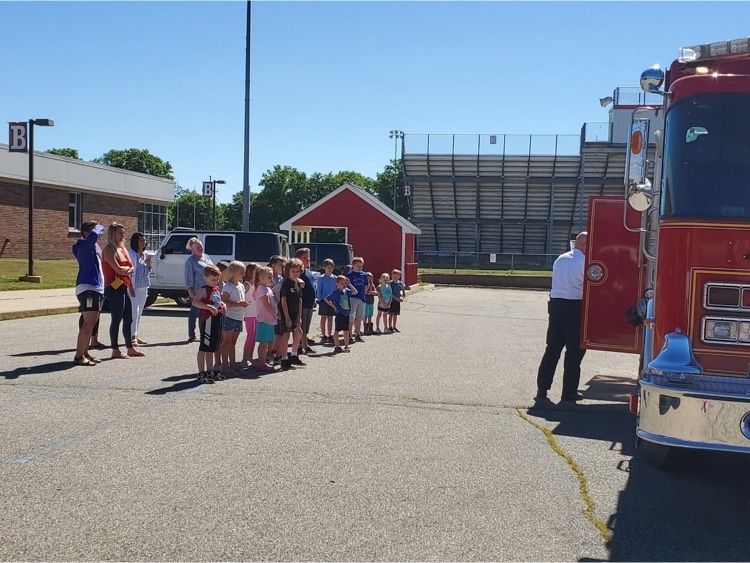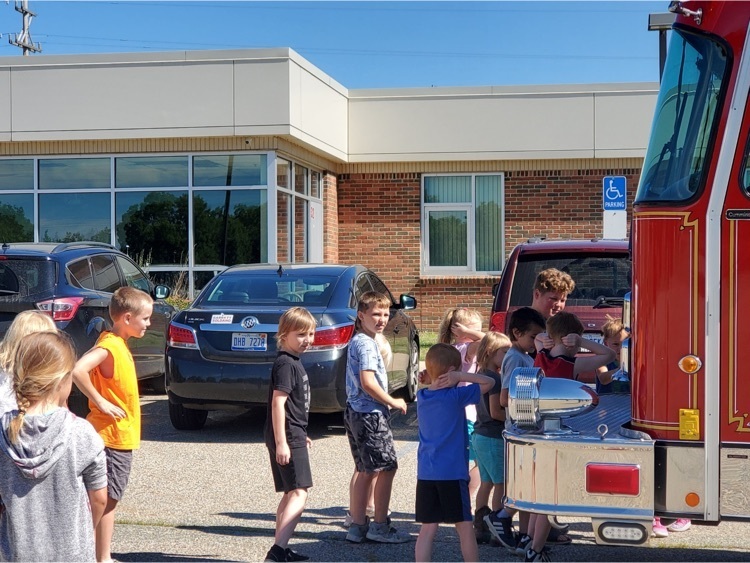 Our summer learning food service crew working hard to serve our students delicious and nutritious breakfast. The hash browns this morning were delicious!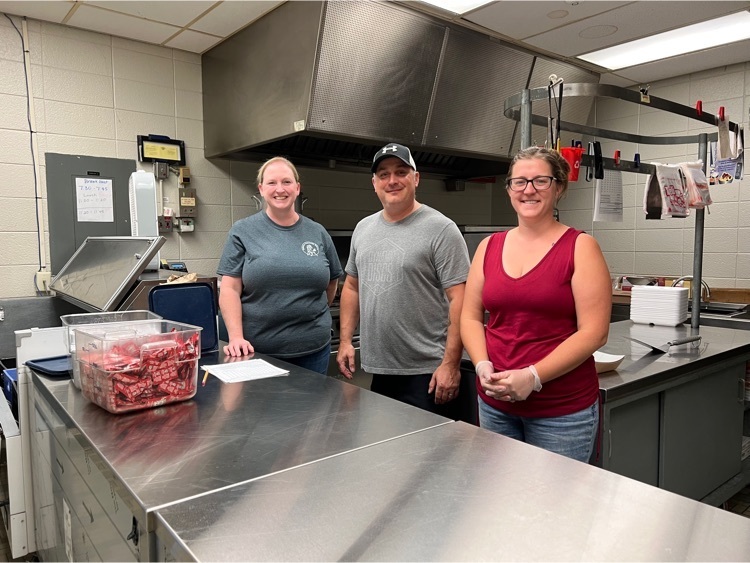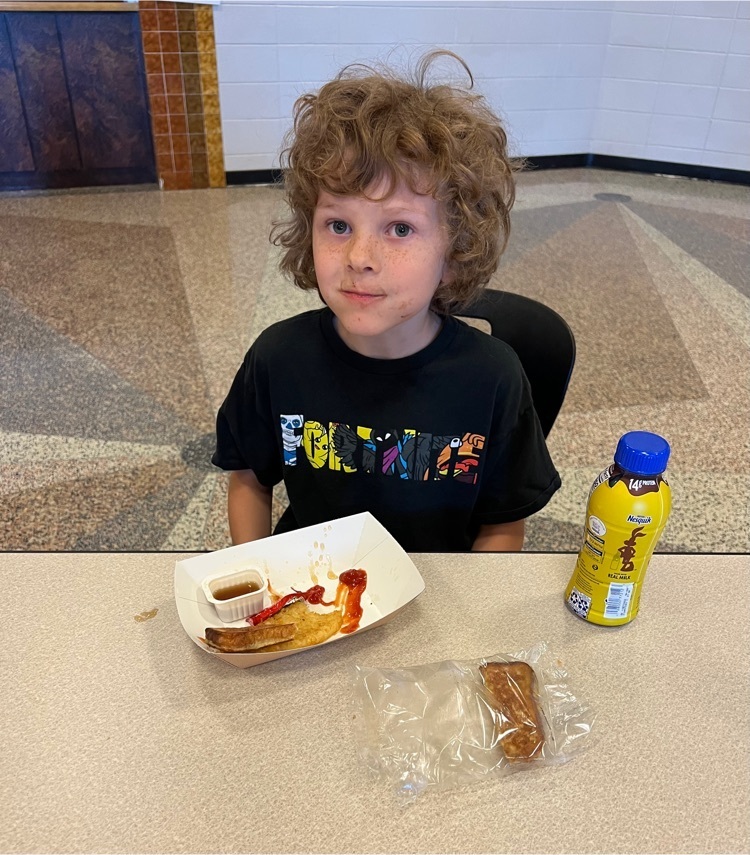 Mrs. Steele is so proud of her morning math group! Yesterday, students were engaged in using number lines to solve addition problems! Way to go Broncos!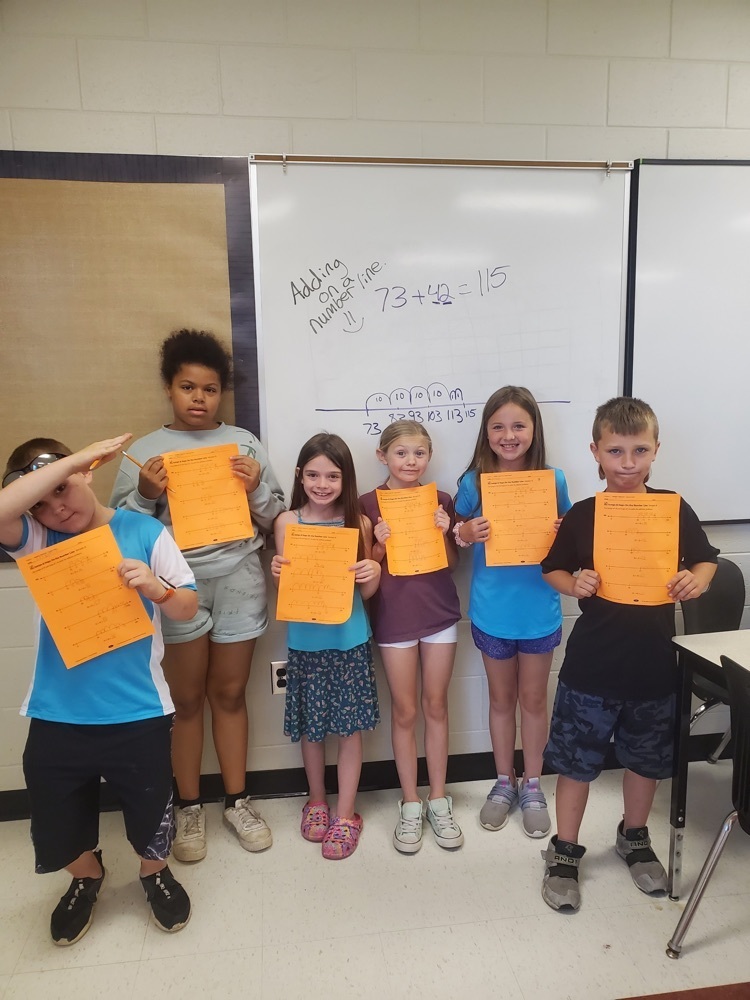 Elementary students have began their second week of summer learning! #BroncoPride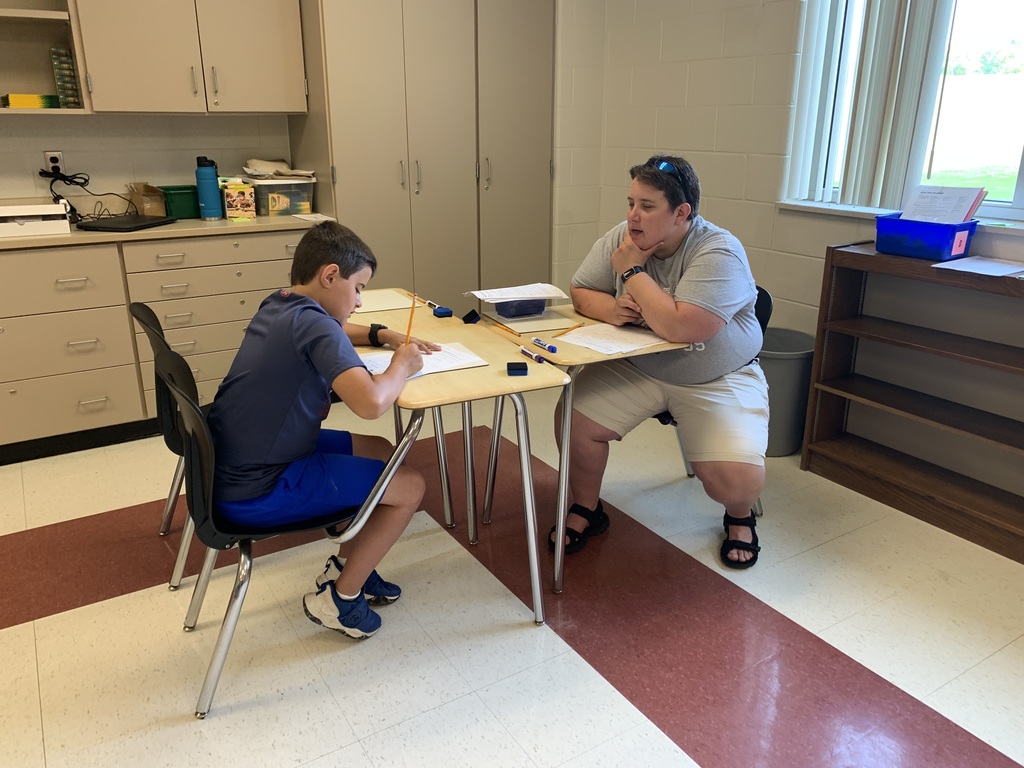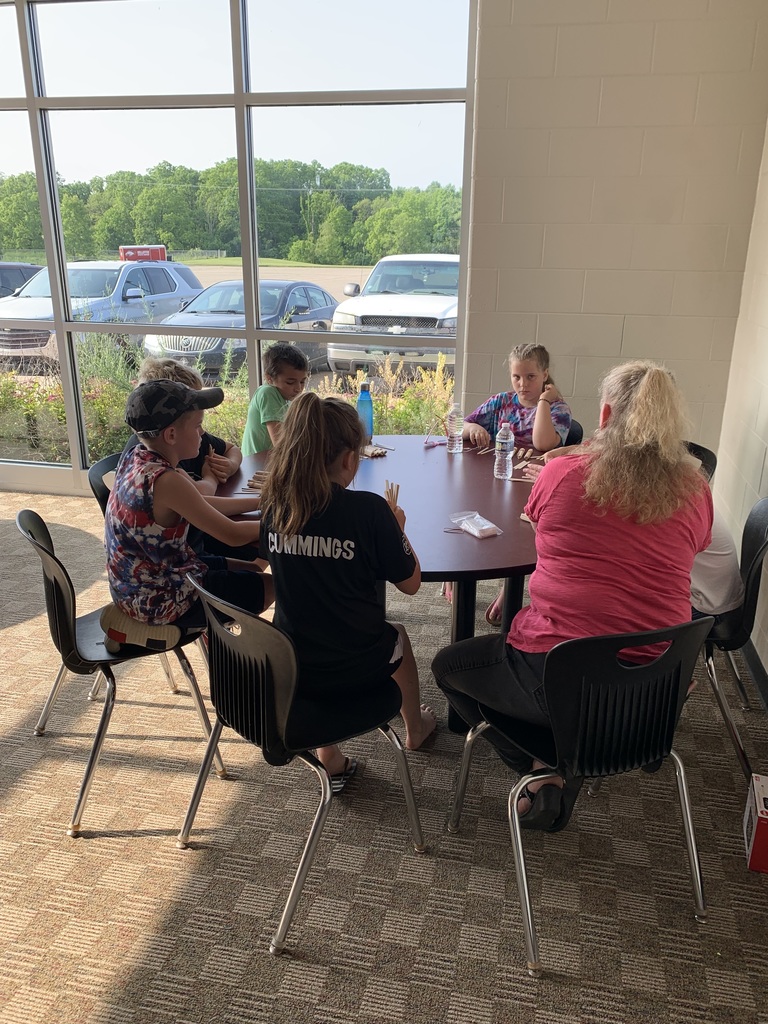 Congratulations to our Semester 2 Honor Roll Students!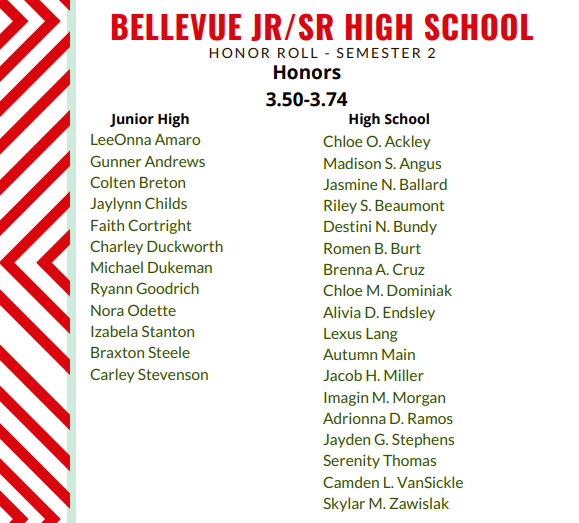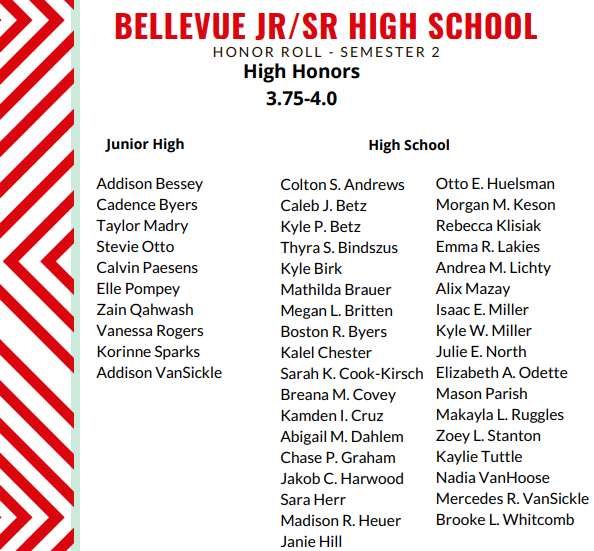 In preparation for Tuesday and Wednesday's predicted forecast calling for high temperatures, we wanted to share the following information with you in regards to our summer learning/credit recovery programs that our taking place. - All locations and classrooms throughout the junior/senior high school have air conditioning - Buses will be parked in the shade in preparation for transporting students - Cold water will be made available to students riding the bus - All windows will be down on the buses to allow for maximum air flow and circulation
Please note, the awards ceremony originally scheduled for this evening has been cancelled.
New Registration (grades K-12) is completed at the High School Office. Please call 763-9413 for more information
HS Office Summer Hours Monday, Tuesday and Thursday 7-3pm Wednesday 7-11 Closed week of June 27th
SUMMER LEARNING BEGINS NEXT WEEK! First Session: June 7-9 June 14-16 June 21-23 June 28-30 Second Session: July 19-21 July 26-28 Aug 2-4 Aug 9-11 8:30am-12:00pm everyday at the Jr/Sr High!
Bellevue Community and Staff, We apologize for the lateness in informing you of the Stakeholder Input Sessions for the Superintendent Search scheduled for today at 2 PM for Staff and 6 PM for Parents/Community Members. The meetings will be held in the Elementary Commons. We are seeking your input on the qualities and characteristics you are wanting in our next superintendent. Jay Bennett, from Michigan Association of School Boards, will be present facilitating each of the meetings. We are adding another session for next Monday, June 6th just before our board meeting at 5:15 for anyone who can't attend today's meeting. Thank you for your continued support in educating our children. Go Broncos!
Please join Jay Bennett from the Michigan Association of School Boards (MASB) Thursday, June 2nd at 6pm in the Elementary Commons for a community conversation about the Superintendent search process and what you're looking for in our next Superintendent.
Early Release days for Bellevue Community Schools Thursday May 26 and Friday May 27! Jr/Sr High will be dismissed at 11:15, Elementary will be dismissed at 11:25
Bellevue Board of Education Vacancy The Bellevue Community Schools Board of Education (BOE) is seeking applicants to fill a current vacancy. The individual will be appointed to fill the vacant position through December 31, 2022, and will be replaced by the individual elected to the position (based on the November 8, 2022 election results) at the January 2023 BOE organizational meeting. The BOE will hold a special meeting on Monday, May 9, 2022, at 6pm for the purpose of filling the vacancy In the elementary commons. All applicants interested in filling this vacancy, please submit your notice of interest in writing to the Board President, Mr. Ed Bartha via email at
ebartinmi@gmail.com
by 3pm on May 9. The applicant must be at least 18 years of age; a citizen of the United States; a resident of the State of Michigan for at least 30 days; and a resident of the school district.
Congratulations to the Class of 2022 Academic Honors. Well done, Broncos!